Talking about the firm is talking about what makes it stand out:
Our firm positions itself as a partner to innovative companies of the technology and digital sectors in need of agile and creative legal solutions.
Our legal services leverage the experience of the firm's founder who has a strong, time-proven understanding of the technology sector and of its demands.
Our strength stems from our capacity to assist entrepreneurs in their development and success in competitive markets in an ever-increasing globalized economy.
Our experience and expertise allow us to position ourselves in conjunction with or as an alternative to large law firms on the basis of our solid understanding of the corporate culture.
Our partnership engagement model allows us to offer reasonable fee structures which accommodate their budgetary constraints.
Our dual legal qualification in Europe and North America is particularly valued by our clients who can benefit from a reliable network of professionals able to assist them on both continents.
For more information about Our Vision, or to discuss your plans or challenges, please Contact Us.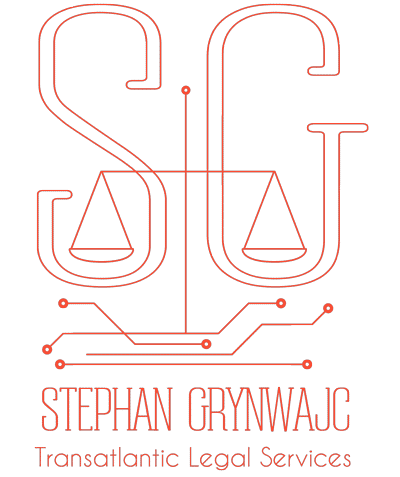 Stephan Grynwajc
Managing Partner
Stephan Grynwajc comes with over 20 years of professional experience working as a lawyer in the technology sector. He is a graduate of the Paris 1 Pantheon-Sorbonne and New York University Schools of Law. He also obtained a business degree from ESCP Europe, one of Europe's leading business schools.
He began his career as a corporate and M&A lawyer with UK and U.S. law firms in Paris and New York. In 2000, he moved in-house and developed an international expertise in information technology and intellectual property law working for a number of leading technology groups in France, the UK and the U.S.
After a 15 year career as an in-house lawyer and General Counsel, he decided to take on a new challenge by setting up his own firm, first in London, and since 2011 in New York. He assists entrepreneurs, start-ups and small to mid-size firms based in the EU, the U.S., and Canada, in their installation and operations in Europe, the U.S., and Canada.
His main areas of practice include technology law, software law, cyberlaw, internet law, computer, e-commerce, IP and IT law, as well as social media law, privacy and data security law. He also regularly drafts and negotiates various forms of technology-related agreements under EU, U.S., and Canadian laws.
Stephan is admitted to practice in France, England and Wales, Canada, and the U.S.
He practices French, English, U.S., and Canadian law.